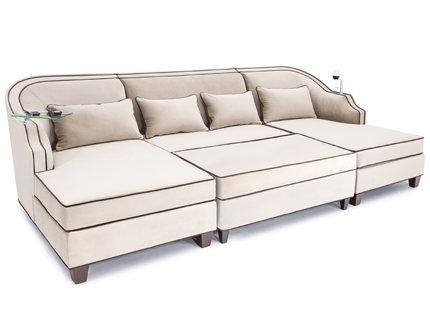 The Cavallo Celestian comes
equipped with all of these features:

PRODUCT SPECIFICATIONS
FEATURES
Upholstery Material:
Fabric
Quality:
High Quality Materials and Construction
Item SKU:
88-Cavallo-Celestian
CONSTRUCTION
Frame Construction:
Reinforced, Engineered, and Kiln-Dried Solid Wood
Frame Joint Construction:
Blocked Reenforced, pinned & glued
Springs:
Sinuous Coiled Springs
Foam Type:
High Resilience w/ Cool Gel
Foam Density:
2.2 Density Memory Foam
Weight Capacity:
350lbs. Per Seat
PRODUCT DESCRIPTION
Cavallo Celestian Media Lounge Sofa
Laying back on a Cavallo media lounge sofa at our showroom, you wouldn't describe them as anything less than divine, and as such, the brand-new Celestian media lounge sofa embodies all that its name implies. However, going beyond the diamond standards of Cavallo's luxury furniture, Celestian goes further with its infinite configurations and an even greater expansion upon the definition of finely engineered sofas.

This transcendent sofa is carefully born from the labor of Cavallo's passionate master craftsmen using 2.2 high-resilience, cool-gel infused foam padding set in matrices entwining with a framework of luxury grade sinuous coiled springs atop a genuine wood, and industrially block-reinforced frame. Upon order, Cavallo's artisans begin working with diligence on your custom-made Celestian, with your choice of upholstery in a vast expanse of over 70 of our finest silken and captivating Aria or Bella Fabrics.

Luxury furniture engineering is demonstrated with the elegance and flawless craftsmanship of the Celestian, and you can find any combination of colors, configuration, or size to make it perfect in your home theater, living room, and life. Its robust padding structure is manufactured with the highest grades of materials, leading to its soft-to-the-touch embrace that grants support evenly across your entire body through its refined foam infrastructure.

It's beveled armrest padding adds to a full, healthy appearance with comfort and support to match for years of rightful use, even among the busiest of families and pets.

If legendary comfort is what you seek, a Cavallo Celestian is what you'll find.
A. Height: 41.5"
B. Chaise Length: 77"
C. Ottoman Depth: 32"

These are some of the most popular configurations for this media lounge sofa group. If you have any questions about a custom setup you would like to purchase, please call one of our expert sales personnel at 1-800-407-8665.
Lounge Sofa Configurations

132"
Dual Chaise Sofa

120"
Dual Chaise Sofa

104"
Dual Chaise Sofa

132"
LAF Chaise Sofa

120"
LAF Chaise Sofa

104"
LAF Chaise Sofa

132"
RAF Chaise Sofa

120"
RAF Chaise Sofa

104"
RAF Chaise Sofa

78" Dual
Chaiselounger
Cavallo Performance Fabric
The Aria line of Cavallo Performance fabrics are mesmerizingly soft and maintain their stunning appearance even after years of use and cleaning. Durable and inviting, this fabric is difficult to stain yet innovatively luscious for your home theater seating.
Tips and Methods to care for your seat material: Read More.