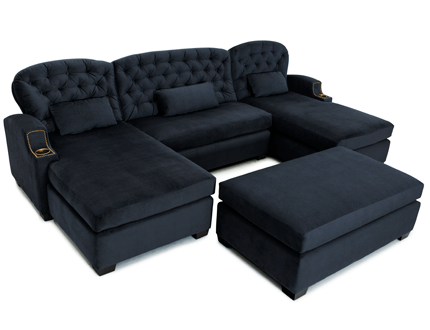 The Cavallo Monarch Lounge (By Seatcraft) comes
equipped with all of these features:
PRODUCT SPECIFICATIONS
FEATURES
Upholstery Material:
Fabric
Quality:
High Quality Materials and Construction
Cupholder Type:
Antique Bronze.
PRODUCT DESCRIPTION
Cavallo Monarch Lounge (By Seatcraft) Home Theater Sofa


The Chateau by Cavallo is a testament to ambition and distinctive design, bridging the gap between a house and a royal abode. Its impeccable craftsmanship allows it to seamlessly complement any room's decor, elevating its overall appeal. While prioritizing comfort, the Chateau doesn't compromise on visual allure, thanks to its sumptuous padding, robust construction, and captivating aesthetics.

Customization is at the heart of the Chateau's ethos, ensuring there's a bespoke version for discerning individuals seeking the finest. With an extensive range of colors in premium leathers and fabrics, along with options for cupholders, pillows, and nailheads, you have the power to create a Chateau that speaks to your unique taste.

Whether you opt for the most opulent premium leathers or the lushest fabrics, rest assured that every Chateau is meticulously designed, handcrafted, and made with passion in America, promising a lifetime of enjoyment.
A. Height: 43"
B. Chaise Length: 70"
C. Ottoman Depth: 33"

These are some of the most popular configurations for this home theater seating group. If you have any questions about a custom setup you would like to purchase, please call one of our expert sales personnel at 1-800-407-8665.
Straight Row Configurations
132" Media
Lounge Sofa
120" Media
Lounge Sofa
104" Media
Lounge Sofa
78" Dual Chaiselounger
Loveseat
Performance Fabric
▪ Multiple Patterns
▪ Textured Materials
▪ Durable & Long Lasting

This line of Performance fabrics are mesmerizingly soft and maintain their stunning appearance even after years of use and cleaning. Durable and inviting, this fabric is difficult to stain yet innovatively luscious for your home theater seating. Available in multiple styles and colors there is a comboination that fits and room decor style.