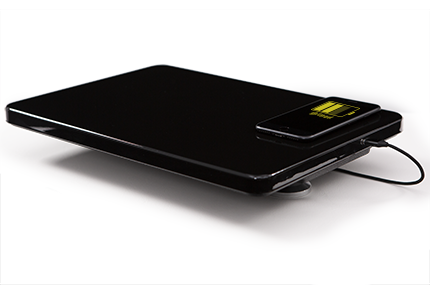 The Seatcraft Wireless Charging Swivel Tray Table comes equipped with all of these features:
FEATURES
Fast Charging:
Compatible
Range of Motion:
360° Rotation
Construction Quality:
High-Grade, High Durability
Attachment Device:
High durability aluminum post
Maintenance:
Easy to clean, soaps and glass cleaners safe.
Compatible with Arm Storage:
Easily fits into inside all Seatcraft brand chairs with in-arm storage.
Supported Chairs:
All Seatcraft-Brand seats with accessory grommets
Compatible Smartphones:
iPhone 8 series, iPhone X series, ASUS PadFone S, Blackberry Q20/Z30/SQC100-5, CAT S50 Series, Google Nexus 3, 4, 5, and 6, Pixel 3 series, LG G3, G6, G7, V30, V35, V40, LUCID2, Optimus F5, Optimus VU 3, Spectrum 2, Optimus G PRO, DROID Turbo / Turbo 2, Moto X, Ultra M, Moto Maxx, and all Samsung S-series at S6 & beyond.
SPECIFICATIONS
Input Voltage:
DC 9V ± 5%
Output Voltage:
DC 9V ± 5%
Description
Stop fiddling with your charging port and enjoy the movie, show, or anything else on your Seatcraft seats with the wireless charging tray table. Works with all QI-Enabled devices, with some mobile phone examples including the Samsung Note 8, Apple iPhone 8, iPhone 8 Plus, iPhone X, and any Samsung S-series phone at S6 or later. Swivel 360 degrees and keep your devices charged or your snacks and drinks within reach. When done, easily store it inside your chairs in-arm storage compartment.
Accessory Specifications
Wireless Charging Swivel Tray Table
| | | | |
| --- | --- | --- | --- |
| Input Voltage | Max Current Input | Output Voltage | Max Current Output |
| DC 9V ± 5% | 2.1A | DC 9V ± 5% | 1.1A |
Seatcraft Wireless Charging Swivel Tray Table
$
89.00
List Price $119.00 /table
SAVE 25%
The Seatcraft Wireless Charging Swivel Tray Table comes equipped with all of these features:

FEATURES

Fast Charging:

Compatible

Range of Motion:

360° Rotation

Construction Quality:

High-Grade, High Durability

Attachment Device:

High durability aluminum post

Maintenance:

Easy to clean, soaps and glass cleaners safe.

Compatible with Arm Storage:

Easily fits into inside all Seatcraft brand chairs with in-arm storage.

Supported Chairs:

All Seatcraft-Brand seats with accessory grommets

Compatible Smartphones:

iPhone 8 series, iPhone X series, ASUS PadFone S, Blackberry Q20/Z30/SQC100-5, CAT S50 Series, Google Nexus 3, 4, 5, and 6, Pixel 3 series, LG G3, G6, G7, V30, V35, V40, LUCID2, Optimus F5, Optimus VU 3, Spectrum 2, Optimus G PRO, DROID Turbo / Turbo 2, Moto X, Ultra M, Moto Maxx, and all Samsung S-series at S6 & beyond.

SPECIFICATIONS

Input Voltage:

DC 9V ± 5%

Output Voltage:

DC 9V ± 5%

Description

Stop fiddling with your charging port and enjoy the movie, show, or anything else on your Seatcraft seats with the wireless charging tray table. Works with all QI-Enabled devices, with some mobile phone examples including the Samsung Note 8, Apple iPhone 8, iPhone 8 Plus, iPhone X, and any Samsung S-series phone at S6 or later. Swivel 360 degrees and keep your devices charged or your snacks and drinks within reach. When done, easily store it inside your chairs in-arm storage compartment.

Accessory Specifications

Wireless Charging Swivel Tray Table

| | | | |
| --- | --- | --- | --- |
| Input Voltage | Max Current Input | Output Voltage | Max Current Output |
| DC 9V ± 5% | 2.1A | DC 9V ± 5% | 1.1A |