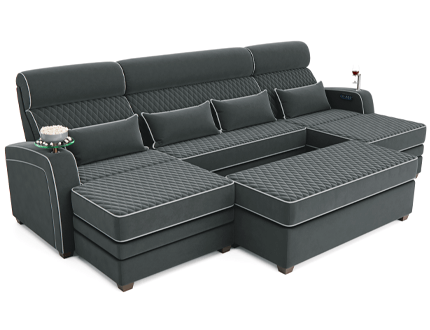 The Haven Lounge comes
equipped with all of these features:
PRODUCT SPECIFICATIONS
FEATURES
Upholstery Material:
Fabric
Quality:
High Quality Materials and Construction
Footrest:
Padded Chaiselounger
PRODUCT DESCRIPTION
Haven Lounge Home Theater Couch Sectional Chaise


The Cavallo Haven Lounge Sofa by Seatcraft is designed for both luxury and functionality. It features an optional crystal-clear swivel table that seamlessly attaches to any armrest, providing a convenient surface. The sofa also comes with matching back cushions, offering a cradling experience in your chosen sofa material. The deep espresso wood finish of the footrests adds an elegant touch. For added relaxation, consider the optional matching ottoman footrest.

Crafted for Comfort and Quality: Upholstered in high-quality fabric with a choice of 15 colors, this sofa embodies quality craftsmanship. With an armrest height of 28" and a padded style, it offers a comfortable and stylish seating solution. The straight row style and padded chaiselounger footrest make it versatile for any space.
A. Height: 45"
B. Chaise Length: 63"
C. Ottoman Depth: 25.5"

These are some of the most popular configurations for this media lounge sofa group. If you have any questions about a custom setup you would like to purchase, please call one of our expert sales personnel at 1-800-407-8665.
Straight Row Configurations
132" Media
Lounge Sofa
120" Media
Lounge Sofa
104" Media
Lounge Sofa
Performance Fabrics
▪ Multiple Patterns
▪ Textured Materials
▪ Durable & Long Lasting

This line of Performance fabrics are mesmerizingly soft and maintain their stunning appearance even after years of use and cleaning. Durable and inviting, this fabric is difficult to stain yet innovatively luscious for your home theater seating. Available in multiple styles and colors there is a comboination that fits and room decor style.