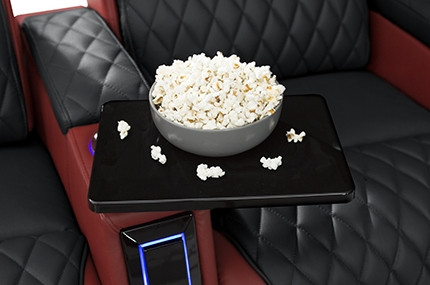 Swivel Tray Tables for home theater seating
This product was designed specifically for Seatcraft home theater seats, and may not fit as intended on other chair brands.
▪ Provides Storage for Easy-To-Reach Items
▪ 360° Rotation

▪ Heavy Duty, Durable Construction
▪ Can be Easily Attached, Removed, or Stored

Description
These are insertable tray tables that work with any compatible chair. They come in a sleek, polished Onyx-Black finish. They swivel 360 degrees and are perfect for resting your drink, laptop, remote, cell phone, etc. The perfect addition for any table-less chair.
Tray Table Dimensions: 10" x 14"
N/A
N/A
Seatcraft Swivel Tray Table
$
37.95
Extra 10% Off Code: SAVE10
$37.95/table
List Price $53.95 /table
SAVE 30%
Swivel Tray Tables for home theater seating

This product was designed specifically for Seatcraft home theater seats, and may not fit as intended on other chair brands.

▪ Provides Storage for Easy-To-Reach Items
▪ 360° Rotation


▪ Heavy Duty, Durable Construction
▪ Can be Easily Attached, Removed, or Stored


Description

These are insertable tray tables that work with any compatible chair. They come in a sleek, polished Onyx-Black finish. They swivel 360 degrees and are perfect for resting your drink, laptop, remote, cell phone, etc. The perfect addition for any table-less chair.

Tray Table Dimensions: 10" x 14"

N/A

N/A