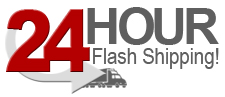 24 Hour Shipping Timeline for Home Theater Seating
Thank you for choosing our 24 Hour Shipping program! This timeline completely lays out the entire process from start to finish. We take pride in being able to ship any qualifying home theater seat directly to your home in a swift manner. If you have any questions please call one of our expert sales representatives at 1-800-407-8665.
*All days on timeline are considered business days, excluding holidays and weekends.
DAY 1
Before 2:00pm PST
Place Your Order Online
Place your order before 2pm (restrictions may apply) from dozens of home theater seat models in-stock and ready to ship within 24 hours! Seats that are eligible will have the "24 Hr Flash Shipping" logo prominently displayed underneath their photo on the product page.
5:00pm PST
Support Staff Processes Order
Once your order has been placed online our support staff will process and charge your credit card. Your order will then be sent over to our warehouse where the shipping process begins.
DAY 2
7:45am PST
Warehouse Receives Order
Once the order has been received by our warehouse, they will pull your order from its designated location of over 10,000 chairs in stock. If an accessory is chosen with the seat which is not in stock, the seat will ship out within 24 hours regardless, with the accessory being shipped as soon as it becomes available.
8:00am PST
Warehouse Prepares Your Order
Once your seat has been located in our warehouse our staff ensures that it is packaged as carefully and safely as possible, to avoid any damages in the shipping process. First, your order is placed on a sturdy palette. It is then shrink wrapped using a rapid automation process, and then carefully corner-guarded for extra protection.
2:00pm PST
Your Order is On Its Way!
Our seats are shipped using reliable freight services that will transport it across the country with prompt efficiency. All shipping and handling within the contiguous U.S. is 100% free of charge. Shipping time varies based on location.
DAY 3
9:00am PST
Tracking Number is E-Mailed
Now that your order has shipped, you will receive an email with your order's tracking number. Simply follow the link in the email and enter in the tracking number to be able to track your order, wherever it is in the shipping process.
DAY 3-7
Your Delivery is Scheduled
The freight service (either the trucking company or white glove delivery service) will contact you with regards to the seat's estimated delivery date and time, along with any updates or changes to delivery. If you have any questions or concerns, you can contact the freight service directly, or one of our customer service reps.

* White glove delivery may require additional days
Your Delivery Occurs
Your order will be delivered at the date and time that you scheduled with the freight service. Orders are delivered curbside for your convenience, unless the white glove delivery option is selected during the initial checkout process.

With our optional white glove delivery, your order will be delivered, taken into your home, unboxed, and carefully assembled by the white glove delivery team, without you ever having to lift a finger!