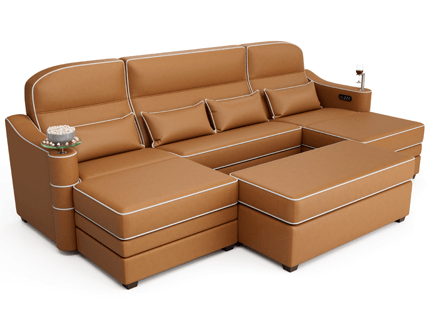 The Symphony Lounge comes
equipped with all of these features:
PRODUCT SPECIFICATIONS
FEATURES
Upholstery Material:
Grade 7000 Leather
Quality:
High Quality Materials and Construction
Footrest:
Padded Chaiselounger
PRODUCT DESCRIPTION
Symphony Leather Custom Home Theater Couch


Experience the epitome of luxury with the Cavallo Symphony Lounge (By Seatcraft). This refined piece offers an optional glass tray table, providing a clear and durable swivel surface that attaches seamlessly to any armrest. Revel in the indulgence of matching back cushions, thoughtfully designed to mirror the upholstery of your chosen Grade 7000 Leather.

Crafted for Excellence in Quality and Style: The Symphony Lounge boasts wooden footrests with a deep espresso wood finish, exuding sophistication. Upholstered in Grade 7000 Leather, available in an array of 15 rich colors, this lounge is the epitome of luxury. Designed with a straight row style, padded chaiselounger footrest, and an elevated armrest height of 32", it effortlessly combines comfort and style. The Cavallo Symphony is a testament to Seatcraft's commitment to using high-quality materials and construction.
A. Height: 44"
B. Chaise Length: 62"
C. Ottoman Depth: 25.5"

These are some of the most popular configurations for this media lounge sofa group. If you have any questions about a custom setup you would like to purchase, please call one of our expert sales personnel at 1-800-407-8665.
Straight Row Configurations
132" Media
Lounge Sofa
120" Media
Lounge Sofa
104" Media
Lounge Sofa
Leather 7000
▪ Richly Textured Material
▪ Deep Mesmerizing Grains
▪ Durable & Long Lasting
▪ Easy to Clean

Leather 7000 is, quite simply, the very finest leather you can pick for your home theater seat. This exclusive, luxury material is a type of top-grain leather that is painstakingly hand-picked from the top 30% of all cow hides, chosen for premium look and texture. Only the thickest, toughest, best looking, and most durable top-grain hides will do! The leather is then carefully buffed to remove any imperfections or variations in color and texture, so that your home theater seat looks as swank, consistent, and inviting as possible. As you sink into its plush, inviting texture, this material will provide that soft yet supportive consistency which only the finest-quality natural leather can provide. Each seat will feel as if it was designed specifically to conform to your body shape, while also being tougher, more durable, and easier to maintain than any other. This will make the Leather 7000 well worth the investment for a home theater seat, which will provide years of lasting enjoyment.
Tips and Methods to care for your seat material: Read More.