The Cavallo Ballad comes
equipped with all of these features: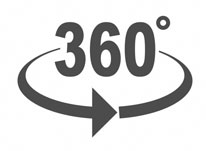 360º Swivel
This chair can swivel 360 degrees.
PRODUCT SPECIFICATIONS
FEATURES
Upholstery Material:
Fabric
Quality:
High Quality Materials and Construction
Footrest:
Padded Footrest
CONSTRUCTION
Frame Construction:
Reinforced, Engineered, and Kiln-Dried Solid Wood
Frame Joint Construction:
Corner Blocked
Foam Type:
High Density 2.2
Foam Density:
2.2 Density Memory Foam
Weight Capacity:
450 lbs. Per Seat
PRODUCT DESCRIPTION
Cavallo Ballad Media Lounge Sofa


The Cavallo Ballad is the final throne in the orchestra of luxury furniture alongside the Cavallo Symphony seating, and Chorus sofa. Clean, defined pipe accents hold durably to the trim of this chair. The cloud-like foam has a surprisingly rigid hold to support every part of your body. Only upholstered in the most luxuriously soft of fabric, we guarantee that its silken softness is enough to immediately soothe your mind and body. If it wasn't enough, this passionately-handcrafted seat in a razor-sharp form ready to be customized by you.

The included accent pillow, free glass tray table, installed accessory grommets, and 360° Swivel Tray Table bring a complete kit ready for enjoyment, with any other accessories available to customize your experience in the Ballad. Bigger than it looks, the Ballad absolutely has enough seating room for two adults, and the deep seating actually imitates a built-in ottoman for complete leg support. Sitting in the Ballad, you'll first notice the firm, yet supportive curvature of its headrest area, putting your head in a naturally comfortable viewing position, leading to this finale in a series of masterfully crafted chairs built for any kind of entertainment.
Cavallo Fabrics
Fabric is a sterling choice for those looking for a multi-purpose material that offers a diversity of options to choose from. Fabric is renowned for projecting an informal, laid-back feel that is both warm and inviting; more than any other material, it reminds one of the comforts of home. It is not limited by this reputation, however, as it can be fashioned into a dazzling array of texture, color, and pattern choices that can combine to mimic other fabrics with ease. The tough, resilient texture of burlap and the soft, velvety touch of suede can be equally replicated using fabric, at an outstanding value. Grade one of the Cavallo fabric series features solid colors like Dove, Pewter, Navy, and Ocean, which will drape over your home theater seat with an elegant grace. At the same time, light differences in grain and stitching give each choice a distinctive flair. That distinctiveness extends into grade two of the fabric series, which focuses on a wide array of attractive pattern designs. Stripes, diamonds, cowhide, and zebra shapes, combined with their variations in color and texture, will be sure to match any individual taste and style needs.
Tips and Methods to care for your seat material: Read More.