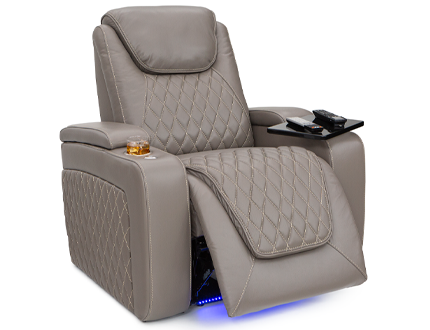 The Seatcraft Muse Theater Seats come
equipped with all of these features:
PRODUCT SPECIFICATIONS
FEATURES
Upholstery Material:
Top Grain Leather 7000
Quality:
High Quality Materials and Construction
Adjustable Power Headrest:
Yes
Adjustable Power Lumbar:
Yes
Cupholder Type:
Blue LED Lighting
Recline Mechanism:
Power Recline
Power Amperage:
Standard 110v Plug
Footrest:
Chaise Style Padded Footrest
Wallhugger:
Yes, 6" from wall needed for full recline.
Armrest Style:
Padded w/ In-Arm Storage
USB Charging:
FREE USB Charging Port Equipped in Each Power Recline Switch, 1 Per Seat
CONSTRUCTION
Frame Construction:
Reinforced, Engineered, and Kiln-Dried Solid Wood
Frame Joint Construction:
Blocked Reinforced
Springs:
Pocketed Coil Springs
Foam Type:
High Resilience w/ Cool Gel
Foam Density:
2.2 Density Memory Foam
Weight Capacity:
350 lbs. Per Seat
ASSEMBLY
Assembly Required:
Easy quick-connect backrest installation to allow for passage through doorways and hallways.
PRODUCT DESCRIPTION
Seatcraft Muse Home Theater Seats


The Seatcraft Muse home theater seat has been added to the Seatcraft Collection. The smooth, layered micro-gel foam inside its backrest will cradle each and every muscle of your back letting them rest easy and fall into heaven while watching your favorite shows or just after a long day of work. The 2.2 High Resilience Foam with Cool Gel offers the support and hold of being firm, yet with an embrace and flexing softness that can only be described as bliss, while you control everything effortlessly from the Quad-Control features remote.

Smooth-gliding motors adjust included in the Muse Home Theater Seat; for lower lumbar support, it offers you ComfortView Power Lumbar. For your head to view the screen and relax perfectly? It brings ComfortView Power Headrests and certified Legget & Platt Recline mechanisms. When you're ready to get up and move, press the 'Home' and return to the starting position. However, the Muse media room chair contains many more features that aid in its quest for comfort.

Accessory grommets, free black tray tables, USB Charging Stations in each power recline switch, cool gel lining, hidden storage armrests, and toggled LED sapphire lights that glow from beneath a TRULY comfortable chair. So sit back, relax, enjoy the show, and be amazed at what a Seatcraft home theater seat can do.

The diamond stitch pattern will add an elegant touch to any existing room you want your Muse home theater seating to be featured in. So sit back, relax, and get that powered lumbar and headrest in the right spot, because it's movie time!
PRODUCT MANUFACTURER

The Seatcraft story begins in 1978 in California as a manufacturer of automotive seating. After starting with van seats, the company soon expanded into RV seating and furniture, where it developed a solid reputation as a leader in the industry. In 2001, its horizons broadened to the world of home theater seating. The expertise and skill honed over 35 years in the automotive business is carried through into our vision for home theater seating. Each Seatcraft product is manufactured with premium materials and outstanding craftsmanship, with a mind toward plush relaxation and startling innovation. In addition, we are further expanding the Seatcraft brand to other home furniture styles, bringing our firm commitment to crafting the highest quality product along the way. As the industry leader, Seatcraft will continue to innovate and design products with the utmost care and expertise for an exceptional seating experience.
A. Seat Height: 43"
B. Footprint: 40"
C. T.V. Position: 54"
D. Full Recline: 67.5"
These are some of the most popular configurations for this home theater seating group. If you have any questions about a custom setup you would like to purchase, please call one of our expert sales personnel at 1-800-407-8665.
Single Seat Dimensions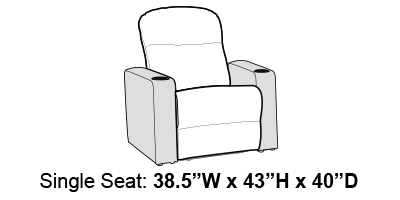 Grade 7000 Top Grain Leather
▪ Painstakingly Hand-Picked
▪ Plush Inviting Texture
▪ Premium Natural Leather
▪ Long Lasting & Durable

Leather 7000 is, quite simply, the very finest leather you can pick for your home theater seat. This exclusive, luxury material is a type of top-grain leather that is painstakingly hand-picked from the top 30% of all cow hides, chosen for premium look and texture. Only the thickest, toughest, best looking, and most durable top-grain hides will do! The leather is then carefully buffed to remove any imperfections or variations in color and texture, so that your home theater seat looks as swank, consistent, and inviting as possible. As you sink into its plush, inviting texture, this material will provide that soft yet supportive consistency which only the finest-quality natural leather can provide. Each seat will feel as if it was designed specifically to conform to your body shape, while also being tougher, more durable, and easier to maintain than any other. This will make the Leather 7000 well worth the investment for a home theater seat, which will provide years of lasting enjoyment.
Tips and Methods to care for your seat material: Read More.