The Seatcraft Swivel Cuddle Seat comes
equipped with all of these features: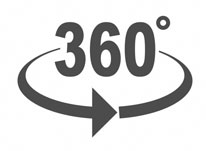 360º Swivel
This chair can swivel 360 degrees.
PRODUCT SPECIFICATIONS
FEATURES
Upholstery Material:
Grade 7000 Leather
Quality:
High Quality Materials and Construction
Cupholder Type:
Black Chrome
Power Amperage:
Standard 110v Plug
Footrest:
Padded Footrest
CONSTRUCTION
Frame Construction:
Reinforced, Engineered, and Kiln-Dried Solid Wood
Frame Joint Construction:
Blocked Reinforced
Foam Type:
High Resilience
Foam Density:
2.2 Density Foam
Weight Capacity:
400 lbs. Per Seat
ASSEMBLY
WARRANTY
PRODUCT DESCRIPTION
Swivel Cuddle Seat Leather Media Room Furniture by Seatcraft


This swivel cuddle home theater seat is available in black top-grain leather 7000 and includes USB charging and ambient lighting in the cupholder and seat base. Optional round glass tray tables and a matching ottoman are also available.
Configurations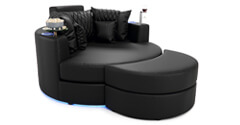 Swivel Cuddle Seat
60"W x 36"H x 85.5"D
Grade 7000 Leather
▪ Richly Textured Material
▪ Deep Mesmerizing Grains
▪ Durable & Long Lasting
▪ Easy to Clean

Leather 7000 is, quite simply, the very finest leather you can pick for your home theater seat. This exclusive, luxury material is a type of top-grain leather that is painstakingly hand-picked from the top 30% of all cow hides, chosen for premium look and texture. Only the thickest, toughest, best looking, and most durable top-grain hides will do! The leather is then carefully buffed to remove any imperfections or variations in color and texture, so that your home theater seat looks as swank, consistent, and inviting as possible. As you sink into its plush, inviting texture, this material will provide that soft yet supportive consistency which only the finest-quality natural leather can provide. Each seat will feel as if it was designed specifically to conform to your body shape, while also being tougher, more durable, and easier to maintain than any other. This will make the Leather 7000 well worth the investment for a home theater seat, which will provide years of lasting enjoyment.