The Seatcraft Cuddle Seat comes
equipped with all of these features: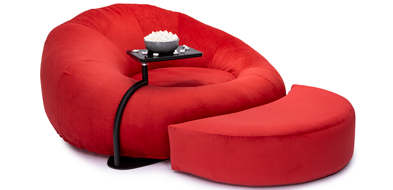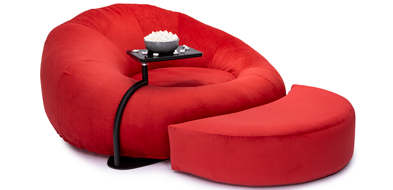 Optional Accessory Stand w/ Table
This stand has a base that allows it to slide underneath the seat following the curvature of the chair up its arm.
PRODUCT SPECIFICATIONS
FEATURES
Upholstery Material:
Bella Fabric
Color:
Black, Chocolate, or Red
Quality:
High Quality Materials and Construction
Adjustable Power Headrest:
No
Adjustable Power Lumbar:
No
Footrest:
Optional Padded Ottoman
CONSTRUCTION
Foam Density:
1.8 Density Foam
Weight Capacity:
300 lbs.
ASSEMBLY
WARRANTY
PRODUCT DESCRIPTION
Seatcraft Cuddle Seat
The Seatcraft Cuddle Seat is the latest addition to any home needing an exceedingly cozy and fun chair. The Cuddle Seat envelopes you in cloud-like comfort that makes perfect space for reading, relaxing, gaming, or watching a movie cuddling with the family. This chair caters to your style, and effortlessly enhances your home. This cuddle seat was created with comfort in mind, hence we use quality foam that will comfortably seat you, even after years of use.

The warm invitation of this seat can be finalized by adding one of our free matching pillow to give it that extra pop. This seat will definitely be the first taken at any family gathering or party!
PRODUCT MANUFACTURER

The Seatcraft story begins in 1978 in California as a manufacturer of automotive seating. After starting with van seats, the company soon expanded into RV seating and furniture, where it developed a solid reputation as a leader in the industry. In 2001, its horizons broadened to the world of home theater seating. The expertise and skill honed over 35 years in the automotive business is carried through into our vision for home theater seating. Each Seatcraft product is manufactured with premium materials and outstanding craftsmanship, with a mind toward plush relaxation and startling innovation. In addition, we are further expanding the Seatcraft brand to other home furniture styles, bringing our firm commitment to crafting the highest quality product along the way. As the industry leader, Seatcraft will continue to innovate and design products with the utmost care and expertise for an exceptional seating experience.
Bella Fabric
▪ Soft to the Touch
▪ Exceptionally Smooth
▪ Number of Different Colors

Bella fabric is an exceptionally smooth, silky material that is easy to maintain and projects a warm, inviting aura. Instantly soft to the touch, it's available in a number of different solid color options that will match any theater decor. This fabric will caress your frame, transporting you to a state of placid relaxation in moments.
Tips and Methods to care for your seat material: Read More.

Items 1 to 4 of 8 total
per page
Page:
1
Seatcraft Cuddle Seat Fabric, Black, Chocolate, or Red
$
999.00
List Price $1,249.00 /seat
SAVE 20%