The Seatcraft Swivel Cuddle Chair comes
equipped with all of these features: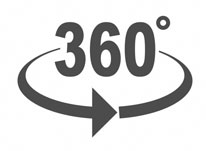 360º Swivel
This chair can swivel 360 degrees.
PRODUCT SPECIFICATIONS
FEATURES
Upholstery Material:
Bella Fabric
Quality:
High Quality Materials and Construction
Adjustable Power Headrest:
No
Adjustable Power Lumbar:
No
Footrest:
Padded Footrest
CONSTRUCTION
Frame Construction:
Reinforced, Engineered, and Kiln-Dried Solid Wood
Frame Joint Construction:
Blocked Reinforced
Foam Type:
High Resilience
Foam Density:
2.2 Density Foam
Weight Capacity:
400 lbs. Per Seat
ASSEMBLY
WARRANTY
PRODUCT DESCRIPTION
Seatcraft Swivel Cuddle Couch


The Seatcraft Swivel Cuddle Couch is the latest offering to home theater seating. This couch indulges you in a cloud-like comfort while providing the perfect space for reading, relaxing, gaming and watching a movie cuddling with the family. Choice of fabric and bonded leather presents your with a vast array of color options that cater to your style and enhance your home. This cuddle couch was created with comfort in mind, hence we use quality soft durable foam that leisurely still comforts you after years of use. Additional swivel and mobility mechanism grant you the accessibility to move from one spot to another.

Each armrest of this cuddle seat is accentuates with two stainless steel cupholders which securely place your beverages within arm's reach. Finally, upgrade your coziness with optional matching ottoman footrest! Designed with the same quality and materials, this ottoman is the perfect extension to the Swivel Cuddle Couch.
PRODUCT MANUFACTURER

The Seatcraft story begins in 1978 in California as a manufacturer of automotive seating. After starting with van seats, the company soon expanded into RV seating and furniture, where it developed a solid reputation as a leader in the industry. In 2001, its horizons broadened to the world of home theater seating. The expertise and skill honed over 35 years in the automotive business is carried through into our vision for home theater seating. Each Seatcraft product is manufactured with premium materials and outstanding craftsmanship, with a mind toward plush relaxation and startling innovation. In addition, we are further expanding the Seatcraft brand to other home furniture styles, bringing our firm commitment to crafting the highest quality product along the way. As the industry leader, Seatcraft will continue to innovate and design products with the utmost care and expertise for an exceptional seating experience.
Fabrics
Fabric is a sterling choice for those looking for a multi-purpose material that offers a diversity of options to choose from. Fabric is renowned for projecting an informal, laid-back feel that is both warm and inviting; more than any other material, it reminds one of the comforts of home. It is not limited by this reputation, however, as it can be fashioned into a dazzling array of texture, color, and pattern choices that can combine to mimic other fabrics with ease. The tough, resilient texture of burlap and the soft, velvety touch of suede can be equally replicated using fabric, at an outstanding value. Grade one of the fabric series features solid colors like Dove, Pewter, Navy, and Ocean, which will drape over your home theater seat with an elegant grace. At the same time, light differences in grain and stitching give each choice a distinctive flair. That distinctiveness extends into grade two of the fabric series, which focuses on a wide array of attractive pattern designs. Stripes, diamonds, cowhide, and zebra shapes, combined with their variations in color and texture, will be sure to match any individual taste and style needs.
Tips and Methods to care for your seat material: Read More.

Items 1 to 4 of 6 total
per page
Page:
1
Seatcraft Swivel Cuddle Couch, Fabric, 20+ Colors
$
1,899.00
Starting At
$1,899.00/couch
List Price $2,300.00 /couch
SAVE 17%