The Seatcraft Mirage comes
equipped with all of these features: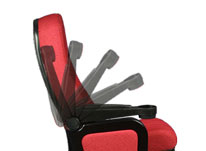 Flip-up Armrests
Each armrest flips up to provide more room and comfort.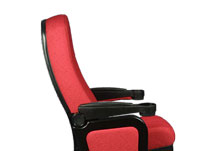 Fixed Back
The fixed back of these chairs are rigid and provide ample support.
PRODUCT SPECIFICATIONS
FEATURES
Upholstery Material:
Fabric
Quality:
Commercial Grade Quality Materials and Construction
Seat Back Style:
Fixed Seat Back
Seat Cushion:
Gravity Lift Seat Bottom Mechanism
Cupholders:
Included in each arm.
Armrest Style:
Padded Flip-Up
CONSTRUCTION
Frame Construction:
Integrated multi-ribbed inner in the outer back, reinforced with a tubular steel frame.
Seat Cushion:
Cold molded urethane foam with an extra soft upper layer.
Backrest:
Thick cold-molded high resiliency foam. Contoured outer back for floor, riser, and slope mounting.
Weight Capacity:
350 lbs. Per Seat
ASSEMBLY
WARRANTY
Full Warranty:
Limited Lifetime Warranty on Fabric. 5 Year Limited Warranty on Frame, Foam & Moving Parts
PRODUCT DESCRIPTION
Seatcraft Mirage Movie Theater Seating


The Mirage fixed back series is the most cost-effective model among all our cinema top sellers. The cold-molded foam provides the right support to your whole body, and the padded armrest offers extra comfort to your arm. Its PP outerbackand seat pan is easy to clean and maintain. It is the comfortable and economical solution for your cinema.
PRODUCT MANUFACTURER

The Seatcraft story begins in 1978 in California as a manufacturer of automotive seating. After starting with van seats, the company soon expanded into RV seating and furniture, where it developed a solid reputation as a leader in the industry. In 2001, its horizons broadened to the world of home theater seating. The expertise and skill honed over 35 years in the automotive business is carried through into our vision for home theater seating. Each Seatcraft product is manufactured with premium materials and outstanding craftsmanship, with a mind toward plush relaxation and startling innovation. In addition, we are further expanding the Seatcraft brand to other home furniture styles, bringing our firm commitment to crafting the highest quality product along the way. As the industry leader, Seatcraft will continue to innovate and design products with the utmost care and expertise for an exceptional seating experience.
A. Seat Height: 39.6"
B. Footprint: 23.2"
C. Cushion Out: 28.7"

These are some of the most popular configurations for this home theater seating group. If you have any questions about a custom setup you would like to purchase please call one of our expert sales personal at 1-800-407-8665.
Straight Row Configurations

Row of 2
49"

Row of 3
72"

Row of 4
95"

Row of 5
118"

Fabric Black
Fabric & Cold-Molded Polyurethane Foam Padding
▪ Soft Padding
▪ Ergonomic Support
▪ Non-Collapsing
▪ Long Lasting Comfort

The soft but ergonomic style padding is a great way to sit through an entire movie without being uncomfortable. The great thing about the cold-molded polyurethane is that it can be as comfortable as a normal theater seat at a fraction of the cost. The specifically formulated polyurethane foam used to individually mold seats and backrest cushions provides the perfect balance between support and comfort. The manufacturing process ensures the foam will not collapse or flatten at any stage, but will provide lasting comfort and ergonomic support.
Tips and Methods to care for your seat material: Read More.

Seatcraft Mirage Fabric, Black
$
249.00
Extra 20% Off Code: BF20
$249.00/seat
List Price $315.00 /seat
SAVE 21%