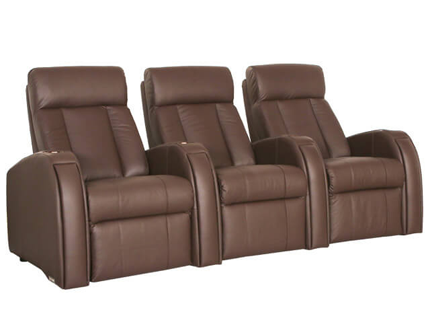 The Jaymar 359 comes
equipped with all of these features: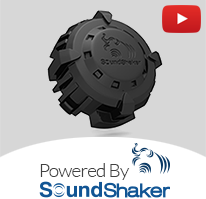 This technology vibrates the chair in sync with the on-screen action!
PRODUCT SPECIFICATIONS
FEATURES
Upholstery Material:
100% Top Grain Leather
Quality:
High Quality Materials and Construction
Adjustable Power Headrest:
No
Adjustable Power Lumbar:
No
Cupholder Type:
Stainless Steel or Antique Bronze
Recline Mechanism:
Power Recline
Power Amperage:
Standard 110v Plug
Footrest:
Chaise Style Padded Footrest
Wallhugger:
Yes, 2" from wall needed for full recline.
ASSEMBLY
Assembly Required:
Easy quick-connect backrest installation to allow for passage through doorways and hallways.
PRODUCT DESCRIPTION
Jaymar 359 Home Theater Chairs


The Jaymar 359 is a deluxe home theater seat equipped with the new Soundshaker system, which will place you right in the center of the screen action. The 359 features an uncluttered, contemporary style with clean lines and sturdy construction, highlighting plush headrests. Genuine top grain leather lends the seat a sumptuous texture and luxurious appearance, which covers 100% of the chair for an elite appearance. Brown color options are sure to match virtually any room decor. Meanwhile, cup holders on the armrests keep drinks secure and within arm's reach.

The featured highlight of the Jaymar 359 is its stunning Soundshaker system, which connects wirelessly to your seat to transmit low end bass frequencies; this ensures that you not only see and hear, but feel every car chase, explosion, and spaceship battle! This feature, which requires the amplifier option, can be powered on and off at one's convenience or modified to include mid-to-high-end frequencies as well. With the 359, you'll find yourself dramatically immersed in your favorite TV shows, movies, and sports events like never before.
PRODUCT MANUFACTURER

Jaymar's roots have always been well anchored on the European tradition of exquisite style and savoir-faire and the ultimate goal of our Jaymar family members is customer satisfaction. In addition to a constant search for innovation and quality, nothing would be possible without the dedication of our experienced and impassioned craftsmen. In fact, several employees have more than 30 years of experience at Jaymar. The dedication, expertise and competence of these veterans are continuously shared with the 180 employees who carry out the research and development, conception and design, inspection, packaging, as well as the delivery and the after-sales service of furniture. This is done to ensure the conformity and the quality of Jaymar products.
A. Seat Height: 42"
B. Footprint: 39"
C. T.V. Position: 56"
D. Full Recline: 66"
These are some of the most popular configurations for this home theater seating group. If you have any questions about a custom setup you would like to purchase please call one of our expert sales personal at 1-800-407-8665.
Straight Row Configurations
Row of 2
65"
Row of 2 Loveseat
58"
Row of 3
94"
Row of 3 Sofa
80"
Row of 3 Loveseat Right
87"
Row of 3 Loveseat Left
87"
Row of 4
123"
Row of 4 Sofa
102"
Row of 4 Loveseat Right
116"
Row of 4 Loveseat Left
116"
Row of 4 Middle Loveseat
116"
Row of 4 Dual Loveseats
109"
Row of 5
152"
Row of 5 Sofa
124"
Row of 5 Loveseat Right
145"
Row of 5 Loveseat Left
145"
Row of 5 Sofa Right
138"
Row of 5 Sofa Left
138"
Row of 5 Dual Loveseats
138"
Row of 6
181"
Premium Top Grain Leather
▪ Richly Textured Material
▪ Deep Mesmerizing Grains
▪ Durable & Long Lasting
▪ Easy to Clean

Top Grain Leather is one of the highest qualities of leather available on the market. Feel the difference of a richly textured material drawn from the outer hide of the animal, which heightens each of the senses in turn. The eyes will be attracted to its deep, mesmerizing grains, which are fully caressing to the touch; meanwhile, inhale the distinct aroma that only pure top grain leather can impart. This material is carefully buffed to remove any imperfections (variations in color, texture, etc.), for a smoothly consistent look. This surface coating is highly resistant to tears and stains, and as such is ideal for those with kids or pets-simply wipe down with a lightly damp cloth, and this material will only become more pliable, sensuous, and handsome with age.
Tips and Methods to care for your seat material: Read More.

Jaymar 359 Theater Seating
$
1,699.00
Extra 20% Off Code: SAVE20
$1,699.00/seat
List Price $2,249.00 /seat
SAVE 24%