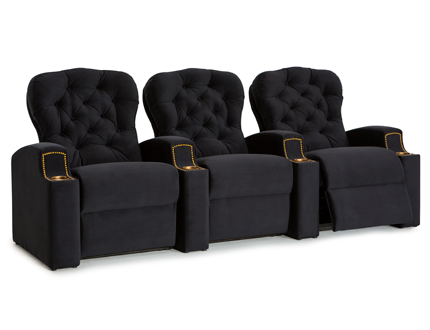 The Cavallo Monarch (By Seatcraft) Theater Seats come
equipped with all of these features:
PRODUCT SPECIFICATIONS
FEATURES
Upholstery Material:
Fabric
Quality:
High Quality Materials and Construction
Adjustable Power Headrest:
No
Adjustable Power Lumbar:
No
Cupholder Type:
Antique Bronze
Recline Mechanism:
Power Recline
Power Amperage:
Standard 110v Plug
Footrest:
Chaise Style Padded Footrest
Wallhugger:
Yes, 3.5" from wall needed for full recline.
Armrest Style:
Padded Front Slopped
USB Charging:
FREE USB Charging Port Equipped in Each Power Recline Switch, 1 Per Seat
PRODUCT DESCRIPTION
Cavallo Monarch Home Theater Seats


The aptly-named Monarch will make you feel like royalty, as you recline in its carefully crafted elegance. The design of this seat is meant to mimic regal designs of old, with a unique rounded seat back that includes button-tufted cushioning, for a classic look.

A majestic nailhead design wraps around the armrests and accents these features, which comes in antique bronze. Plush seating and a full chaiselounger footrest extend the comfort to your lower body, for all-around support; a Leggett-Platt recline mechanism also ensures a smooth glide as you stretch out.

A special layer of cool gel keeps the seat at the right temperature even after hours of use, while an additional layer of memory foam molds itself to your body's natural contours.

Cup holders come in antique bronze options. Meanwhile, modular seating allows for the secure addition of more seats at any time. Fashioned more like a throne of excellence than a simple chair, the Monarch will make an instant upgrade to any home theater.
A. Seat Height: 42"
B. Footprint: 39"
C. T.V. Position: 58"
D. Full Recline: 68"
These are some of the most popular configurations for this home theater seating group. If you have any questions about a custom setup you would like to purchase, please call one of our expert sales personnel at 1-800-407-8665.
Popular Configurations

Row of 2
70"

Row of 2 Loveseat
64"

Row of 3
102"

Row of 3 Sofa
88"

Row of 3 Loveseat Right
94"

Row of 3 Loveseat Left
94"

Row of 4
134"

Row of 4 Sofa
112"

Row of 4 Loveseat Right
126"

Row of 4 Loveseat Left
126"

Row of 4 Middle Loveseat
126"

Row of 4 Dual Loveseats
120"

Row of 5
166"

Row of 5 Sofa
136"

Row of 5 Loveseat Right
158"

Row of 5 Loveseat Left
158"

Row of 5 Dual Loveseats
150"
Performance Fabric
▪ Multiple Patterns
▪ Textured Materials
▪ Durable & Long Lasting

This line of Performance fabrics are mesmerizingly soft and maintain their stunning appearance even after years of use and cleaning. Durable and inviting, this fabric is difficult to stain yet innovatively luscious for your home theater seating. Available in multiple styles and colors there is a comboination that fits and room decor style.
Cavallo Monarch (By Seatcraft) Home Theater Seating, Fabric, Power Recline
$
949.00
Extra 10% Off Code: SAVE10
$949.00/seat
List Price $1,299.00 /seat
SAVE 27%