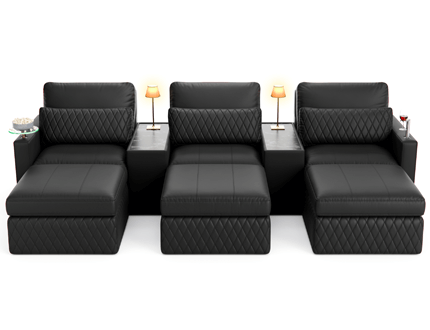 The Diamante Console Table Sofa (By Seatcraft) comes
equipped with all of these features: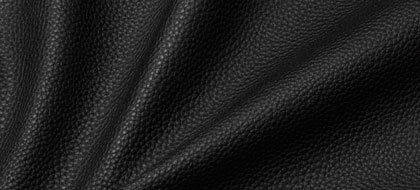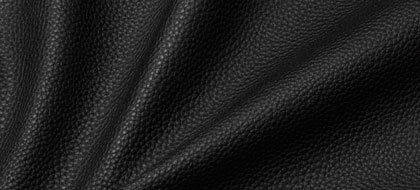 100% Grade 7000 Leather
This leather is, quite simply, the very finest leather you can pick. This exclusive, luxury material is a type of top-grain leather that is painstakingly hand-picked from the top portion of the hide.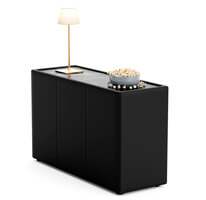 Console Table
A console table is featured in between each arm to create an elegant and convenient experience.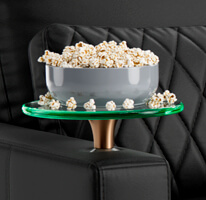 OPTIONAL Glass Tray Table
A crystal-clear round revolving table that attaches to the easily accessible mount that provides sturdy access.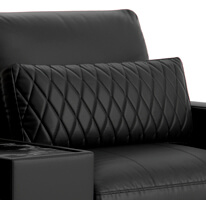 Kidney Accent Pillows
Each seat comes with a wide, diamond stitch embellished, matching kidney pillow to supplement back support.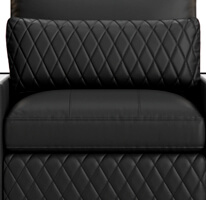 Diamond Stitch Design
Adorned with an elegant, and stylish, diamond stitch sew pattern on the kidney pillow and base of each seat.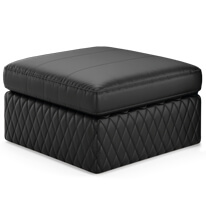 Matching Ottoman
Add a matching ottoman to your desired layout and create full body support on any seat it's attached to.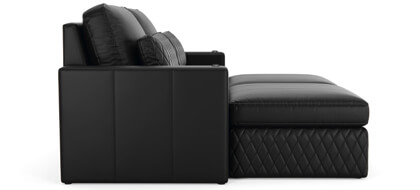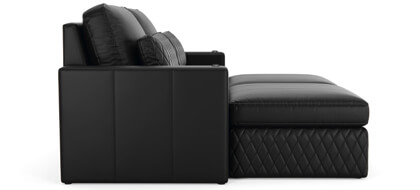 Full Body Support
This chaise position allows you to sink into its fully supported cushioning with the aid of it's combined construction elements.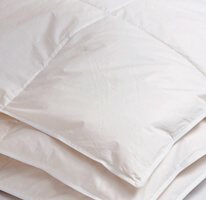 Down Feather Lining
This lining encases the foam and adds a very plush experience that will give you the feeling of floating on air.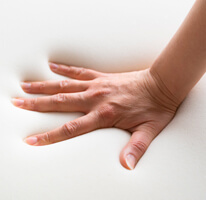 2.2 High Resilience Foam
Each cushion is filled with super soft 2.2 high resilience, and high density, long-lasting top quality foam.
Pocket Sinuous Coiled Springs
These heavy-gauge vertical s-shaped coils are covered in protective cloth and prevent premature foam breakdown.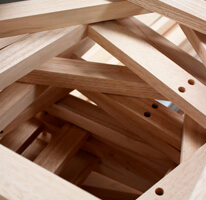 Kiln-Dried Wood Frame
Dried in an oven (kiln) to control temperture and humidity that yields a strong wood that is then reinforced.
PRODUCT SPECIFICATIONS
FEATURES
Upholstery Material:
100% Grade 7000 Leather
Color:
Black, Gray, or Red
Quality:
High Quality Materials and Construction
CONSTRUCTION
Frame Construction:
Reinforced Engineered and Kiln-Dried Solid Wood
Frame Joint Construction:
Corner Blocked
Springs:
Pocketed Sinuous Coiled
Foam Type:
High Resilience
Foam Density:
2.2 High Density Foam
Weight Capacity:
450 lbs. Per Seat
PRODUCT DESCRIPTION
Diamante Modular Home Theater Sofa Console Table


The Seatcraft Diamante Media Lounge Sofa embodies lavishness through its meticulous craftsmanship and premium attributes. Draped in the finest 100% Grade 7000 Leather, hand-selected from the upper echelons of the hide, it exudes opulence. The inclusion of console tables and an optional Glass Tray Table between each arm imparts both grace and convenience. Diamond-stitched kidney pillows offer crucial back support while elevating the sofa's visual allure.

This sofa delivers an unmatched level of comfort and support. The chaise position invites you to immerse yourself in fully cushioned luxury, courtesy of a blend of high-resilience, high-density foam, and pocketed sinuous coiled springs. The down feather lining introduces an extra layer of opulence, akin to floating on air. A fortified kiln-dried wood frame ensures enduring durability, while ample storage within the armrests keeps essentials within easy reach.

Available in a spectrum of refined hues, the Diamante sofa stands as a testament to luxury and quality. Its design seamlessly fuses form and function, establishing it as a centerpiece of any home entertainment space. With a weight capacity of 450 lbs. per seat, it's engineered to accommodate a range of individuals. Immerse yourself in the epitome of comfort and style with the Seatcraft Diamante Media Lounge Sofa.
These are some of the most popular configurations for this home theater seating group. If you have any questions about a custom setup you would like to purchase, please call one of our expert sales personnel at 1-800-407-8665.
Configurations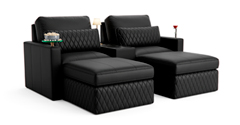 5-Piece
92"W x 39"H x 68"D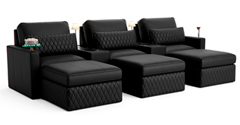 8-Piece
138"W x 39"H x 68"D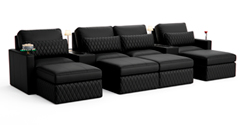 10-Piece
170"W x 39"H x 68"D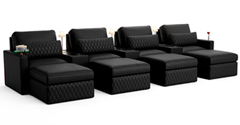 11-Piece
184"W x 39"H x 68"D
100% Grade 7000 Leather
▪ Richly Textured Material
▪ Deep Mesmerizing Grains
▪ Durable & Long Lasting
▪ Easy to Clean

Leather 7000 is, quite simply, the very finest leather you can pick for your home theater seat. This exclusive, luxury material is a type of top-grain leather that is painstakingly hand-picked from the top 30% of all cow hides, chosen for premium look and texture. Only the thickest, toughest, best looking, and most durable top-grain hides will do! The leather is then carefully buffed to remove any imperfections or variations in color and texture, so that your home theater seat looks as swank, consistent, and inviting as possible. As you sink into its plush, inviting texture, this material will provide that soft yet supportive consistency which only the finest-quality natural leather can provide. Each seat will feel as if it was designed specifically to conform to your body shape, while also being tougher, more durable, and easier to maintain than any other. This will make the Leather 7000 well worth the investment for a home theater seat, which will provide years of lasting enjoyment.