The Cuddle Home Theater Seat (By Seatcraft) comes
equipped with all of these features: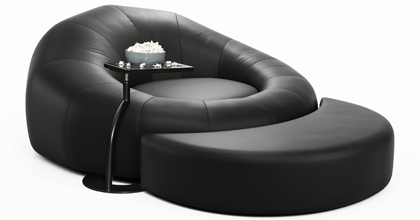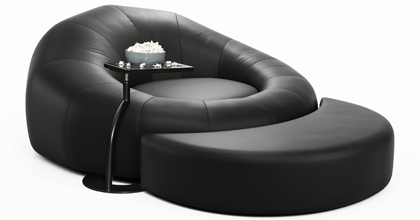 Optional Accessory Stand w/ Table
This stand has a base that allows it to slide underneath the seat following the curvature of the chair up its arm.
PRODUCT SPECIFICATIONS
FEATURES
Upholstery Material:
Grade 7000 Leather
Quality:
High Quality Materials and Construction
Footrest:
Optional Padded Ottoman
CONSTRUCTION
Foam Density:
1.8 Density Foam
Weight Capacity:
300 lbs.
ASSEMBLY
WARRANTY
PRODUCT DESCRIPTION
Home Theater Cuddle Seating (By Seatcraft)


Experience ultimate comfort in our home theater cuddle seat. It seats 2 adults or 3 kids, is filled with durable foam, and is wrapped in top-grain leather. Add the optional ottoman for full-body support
Grade 7000 Top Grain Leather
▪ Painstakingly Hand-Picked
▪ Plush Inviting Texture
▪ Premium Natural Leather
▪ Long Lasting & Durable

Leather 7000 is, quite simply, the very finest leather you can pick for your home theater seat. This exclusive, luxury material is a type of top-grain leather that is painstakingly hand-picked from the top 30% of all cow hides, chosen for premium look and texture. Only the thickest, toughest, best looking, and most durable top-grain hides will do! The leather is then carefully buffed to remove any imperfections or variations in color and texture, so that your home theater seat looks as swank, consistent, and inviting as possible. As you sink into its plush, inviting texture, this material will provide that soft yet supportive consistency which only the finest-quality natural leather can provide. Each seat will feel as if it was designed specifically to conform to your body shape, while also being tougher, more durable, and easier to maintain than any other. This will make the Leather 7000 well worth the investment for a home theater seat, which will provide years of lasting enjoyment.