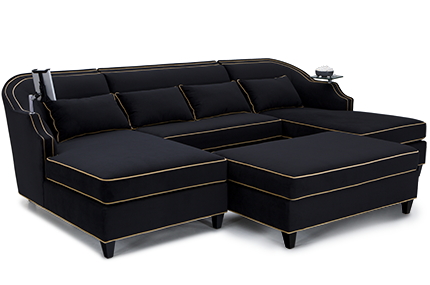 The Cavallo Chorus comes
equipped with all of these features:
PRODUCT SPECIFICATIONS
FEATURES
Upholstery Material:
Fabric
Quality:
High Quality Materials and Construction
Footrest:
Padded Chaiselounger
Item SKU:
88-Cavallo-Chorus
CONSTRUCTION
Frame Construction:
Reinforced, Engineered, and Kiln-Dried Solid Wood
Frame Joint Construction:
Blocked Reenforced, pinned & glued
Springs:
Sinuous Coiled Springs
Foam Type:
High Resilience w/ Cool Gel
Foam Density:
2.2 Density Memory Foam
Weight Capacity:
300 lbs.
PRODUCT DESCRIPTION
Cavallo Chorus Media Lounge Sofa
Luxury furniture engineering is demonstrated with the elegance and flawless craftsmanship of Cavallo's newest media lounge sofa, the Chorus. Its robust padding structure is manufactured with the highest grades of materials, before painstakingly upholstered with velvety bella fabric that glides across the surface of your skin with its soft-to-the-touch embrace.

It's beveled armrest padding adds to a full appearance with comfort and support to match. This powerful, and unbelievably comfortable sofa will impress you and your guests time and time again.


A. Height: 41.5"
B. Chaise Length: 77"
C. Ottoman Depth: 32"

These are some of the most popular configurations for this media lounge sofa group. If you have any questions about a custom setup you would like to purchase, please call one of our expert sales personnel at 1-800-407-8665.
Straight Row Configurations
132" Media
Lounge Sofa
120" Media
Lounge Sofa
104" Media
Lounge Sofa
Cavallo Fabrics
Fabric is a sterling choice for those looking for a multi-purpose material that offers a diversity of options to choose from. Fabric is renowned for projecting an informal, laid-back feel that is both warm and inviting; more than any other material, it reminds one of the comforts of home. It is not limited by this reputation, however, as it can be fashioned into a dazzling array of texture, color, and pattern choices that can combine to mimic other fabrics with ease. The tough, resilient texture of burlap and the soft, velvety touch of suede can be equally replicated using fabric, at an outstanding value. Grade one of the Cavallo fabric series features solid colors like Dove, Pewter, Navy, and Ocean, which will drape over your stationary sofa with an elegant grace. At the same time, light differences in grain and stitching give each choice a distinctive flair. That distinctiveness extends into grade two of the fabric series, which focuses on a wide array of attractive pattern designs. Stripes, diamonds, cowhide, and zebra shapes, combined with their variations in color and texture, will be sure to match any individual taste and style needs.
Tips and Methods to care for your seat material: Read More.


Cavallo Chorus Media Lounge Sofa, Fabric, 20+ Colors
$
6,499.00
Starting At
$6,499.00/sofa
List Price $7,999.00 /sofa
SAVE 19%