Wine Glass Caddy for Seatcraft home theater seating
This product was designed specifically for Seatcraft home theater seats, and may not fit as intended on other chair brands.
▪ 'No-Spill' Hook
▪ 360° Rotation

▪ Sturdy Base
▪ Beautiful Billet Aluminum Finish

Description
Our unique wine glass caddy is only available from Seatcraft! Its beveled edges and stainless steel finish give it a clean and luxurious look that will accent any seat that it is paired with. Like a good wine and cheese this combination just goes together! The wine glass caddy will fit any size glass and has a very stable foundation to prevent spillage. This accessory is a must for any wine enthusiast that wants to enjoy both movie and drink!
Accessory Dimensions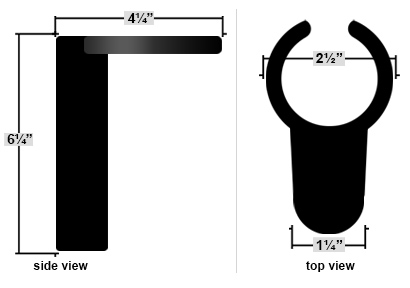 N/A
N/A
Seatcraft Wine Glass Caddy
$
74.99
Extra 10% Off Code: SAVE10
$74.99/caddy
List Price $99.99 /caddy
SAVE 25%
Wine Glass Caddy for Seatcraft home theater seating

This product was designed specifically for Seatcraft home theater seats, and may not fit as intended on other chair brands.

▪ 'No-Spill' Hook
▪ 360° Rotation


▪ Sturdy Base
▪ Beautiful Billet Aluminum Finish


Description

Our unique wine glass caddy is only available from Seatcraft! Its beveled edges and stainless steel finish give it a clean and luxurious look that will accent any seat that it is paired with. Like a good wine and cheese this combination just goes together! The wine glass caddy will fit any size glass and has a very stable foundation to prevent spillage. This accessory is a must for any wine enthusiast that wants to enjoy both movie and drink!

Accessory Dimensions

N/A

N/A