Seatcraft Loveseat Slide Arm for Home Theater Seating
▪ Black or Brown Bonded Leather Finish
▪ Slides into any loveseat to create a shared arm

▪ Comes with Black Cupholder
▪ Easy to Add/Remove from any chair

Description
This slide arm home theater accessory allows you to turn any loveseat or sofa configuration into a standard row! The arm slides easily between the cushions of the seat, and comes in a genuine bonded leather or luxury 7000 grade leather material. Black or brown color options will provide a solid match for virtually any seat decor. Cup holder options come in black, burlwood, stainless steel, bronze, or lighted, to keep your beverages secure and within arm's reach. Just as easily as it slides on, the arm can be quickly removed to return your seats to their original configuration. This ultra-convenient option is something no-one with a loveseat or sofa should be without!
Manufacturer



The Seatcraft story begins in 1978 in California as a manufacturer of automotive seating. After starting with van seats, the company soon expanded into RV seating and furniture, where it developed a solid reputation as a leader in the industry. In 2001, its horizons broadened to the world of home theater seating. The expertise and skill honed over 35 years in the automotive business is carried through into our vision for home theater seating. Each Seatcraft product is manufactured with premium materials and outstanding craftsmanship, with a mind toward plush relaxation and startling innovation. In addition, we are further expanding the Seatcraft brand to other home furniture styles, bringing our firm commitment to crafting the highest quality product along the way. As the industry leader, Seatcraft will continue to innovate and design products with the utmost care and expertise for an exceptional seating experience.
Accessory Dimensions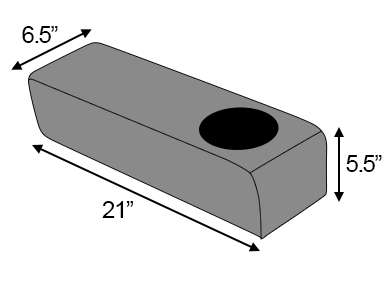 Genuine Bonded Leather
▪ More Consistency
▪ Plush Inviting Texture
▪ Hybrid Leather
▪ Long Lasting & Durable

For those searching for the many benefits of leather combined with the affordable value of other materials, bonded leather is literally the best of both worlds. This style was a way to present the look and feel of genuine full-grain leather at a fraction of the cost. This is because the material is actually a polyurethane-leather hybrid. Bonded leather is more durable than fabric, while providing many of the same advantages in look, texture, and feel as full-grain leather. In addition, the material actually has more consistency than full-grain leather, and is even easier to clean; just take a damp cloth to the material once a week, and it should look radiant for years to come. With bonded leather, you are sure to be fully satisfied by the range of attractions offered by its unique hybrid status.
Tips and Methods to care for your seat material: Read More.

Grade 7000 Top Grain Leather
▪ Painstakingly Hand-Picked
▪ Plush Inviting Texture
▪ Premium Natural Leather
▪ Long Lasting & Durable

Leather 7000 is, quite simply, the very finest leather you can pick for your home theater seat. This exclusive, luxury material is a type of top-grain leather that is painstakingly hand-picked from the top 30% of all cow hides, chosen for premium look and texture. Only the thickest, toughest, best looking, and most durable top-grain hides will do! The leather is then carefully buffed to remove any imperfections or variations in color and texture, so that your home theater seat looks as swank, consistent, and inviting as possible. As you sink into its plush, inviting texture, this material will provide that soft yet supportive consistency which only the finest-quality natural leather can provide. Each seat will feel as if it was designed specifically to conform to your body shape, while also being tougher, more durable, and easier to maintain than any other. This will make the Leather 7000 well worth the investment for a home theater seat, which will provide years of lasting enjoyment.
Tips and Methods to care for your seat material: Read More.

N/A
Seatcraft Loveseat Slide Arm
$
89.00
Extra 10% Off Code: SAVE10
$89.00/arm
List Price $110.00 /arm
SAVE 19%
Seatcraft Loveseat Slide Arm for Home Theater Seating

▪ Black or Brown Bonded Leather Finish
▪ Slides into any loveseat to create a shared arm


▪ Comes with Black Cupholder
▪ Easy to Add/Remove from any chair


Description

This slide arm home theater accessory allows you to turn any loveseat or sofa configuration into a standard row! The arm slides easily between the cushions of the seat, and comes in a genuine bonded leather or luxury 7000 grade leather material. Black or brown color options will provide a solid match for virtually any seat decor. Cup holder options come in black, burlwood, stainless steel, bronze, or lighted, to keep your beverages secure and within arm's reach. Just as easily as it slides on, the arm can be quickly removed to return your seats to their original configuration. This ultra-convenient option is something no-one with a loveseat or sofa should be without!

Manufacturer


The Seatcraft story begins in 1978 in California as a manufacturer of automotive seating. After starting with van seats, the company soon expanded into RV seating and furniture, where it developed a solid reputation as a leader in the industry. In 2001, its horizons broadened to the world of home theater seating. The expertise and skill honed over 35 years in the automotive business is carried through into our vision for home theater seating. Each Seatcraft product is manufactured with premium materials and outstanding craftsmanship, with a mind toward plush relaxation and startling innovation. In addition, we are further expanding the Seatcraft brand to other home furniture styles, bringing our firm commitment to crafting the highest quality product along the way. As the industry leader, Seatcraft will continue to innovate and design products with the utmost care and expertise for an exceptional seating experience.

Accessory Dimensions

Genuine Bonded Leather

▪ More Consistency
▪ Plush Inviting Texture
▪ Hybrid Leather
▪ Long Lasting & Durable


For those searching for the many benefits of leather combined with the affordable value of other materials, bonded leather is literally the best of both worlds. This style was a way to present the look and feel of genuine full-grain leather at a fraction of the cost. This is because the material is actually a polyurethane-leather hybrid. Bonded leather is more durable than fabric, while providing many of the same advantages in look, texture, and feel as full-grain leather. In addition, the material actually has more consistency than full-grain leather, and is even easier to clean; just take a damp cloth to the material once a week, and it should look radiant for years to come. With bonded leather, you are sure to be fully satisfied by the range of attractions offered by its unique hybrid status.

Tips and Methods to care for your seat material: Read More.


Grade 7000 Top Grain Leather

▪ Painstakingly Hand-Picked
▪ Plush Inviting Texture
▪ Premium Natural Leather
▪ Long Lasting & Durable


Leather 7000 is, quite simply, the very finest leather you can pick for your home theater seat. This exclusive, luxury material is a type of top-grain leather that is painstakingly hand-picked from the top 30% of all cow hides, chosen for premium look and texture. Only the thickest, toughest, best looking, and most durable top-grain hides will do! The leather is then carefully buffed to remove any imperfections or variations in color and texture, so that your home theater seat looks as swank, consistent, and inviting as possible. As you sink into its plush, inviting texture, this material will provide that soft yet supportive consistency which only the finest-quality natural leather can provide. Each seat will feel as if it was designed specifically to conform to your body shape, while also being tougher, more durable, and easier to maintain than any other. This will make the Leather 7000 well worth the investment for a home theater seat, which will provide years of lasting enjoyment.

Tips and Methods to care for your seat material: Read More.


N/A