Adjustable Tablet & Phone Holder for Home Theater Seating
This product was designed specifically for Seatcraft home theater seats, and may not fit as intended on other chair brands.
▪ Stainless Steel Finish
▪ Easily Adjusts to Fit Popular Tablets & Phones

▪ 360° Rotation and Jointed Elbow.
▪ Sturdy Base

Description
Included are two adjustable mounts for holding either a tablet, or phone, that can be attached to the single included base. The base slides into any accessory mount or our unique Accessory POD System. It universally fits any popular tablet and phone, and can accommodate a number of different positions. Supporting portrait and landscape modes for tablets and phones, the joint elbow which stems off the base supports 360° Rotation.
Accessory Dimensions
The highest setting grip on the tablet holder is 10" W x 6" L. The smallest setting grip is 6" W x 5 1/2" L.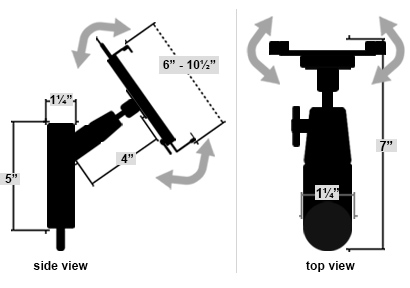 N/A
N/A
Seatcraft Accessory Adjustable Tablet & Phone Holder With Base
$
79.99
Extra 20% Off Code: SAVE20
$79.99/set
List Price $108.99 /set
SAVE 27%
Adjustable Tablet & Phone Holder for Home Theater Seating

This product was designed specifically for Seatcraft home theater seats, and may not fit as intended on other chair brands.

▪ Stainless Steel Finish
▪ Easily Adjusts to Fit Popular Tablets & Phones


▪ 360° Rotation and Jointed Elbow.
▪ Sturdy Base


Description

Included are two adjustable mounts for holding either a tablet, or phone, that can be attached to the single included base. The base slides into any accessory mount or our unique Accessory POD System. It universally fits any popular tablet and phone, and can accommodate a number of different positions. Supporting portrait and landscape modes for tablets and phones, the joint elbow which stems off the base supports 360° Rotation.

Accessory Dimensions

The highest setting grip on the tablet holder is 10" W x 6" L. The smallest setting grip is 6" W x 5 1/2" L.

N/A

N/A